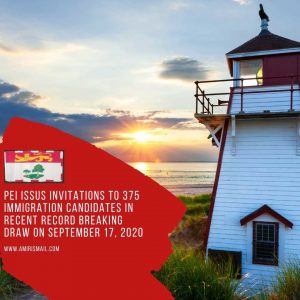 New PEI Record Breaking Immigration Draw sees selection of 345 immigration candidates from Express Entry and Labour Market categories!
PEI, one of Canada's eastern provinces in maritime, invited 305 immigration candidates to apply for Provincial Nomination for permanent residence in Canada in what is being considered as a record breaking immigration draw on September 17, 2020.
The province has been very active in selecting applicants from the Express Entry Pool. Prior to the September 17th Draw, it had already conducted 8 similar draws selecting prospective immigration candidates from its Express Entry and Labour Impact categories. The latest draw selected 305 candidates which were distributed as follows:
Business Impact candidates: 28 Invitations

Express Entry and Labour Impact candidates: 277 Invitations (breakdown expected to be available in near future)
Want to know your eligibility to immigrate to Canada?
Complete our free assessment form to know your eligibility as a professional, senior manager or a businessman and get our opinion from Mr. Amir Ismail, our Toronto-based authorized citizenship and immigration adviser.

Assessment for Skilled Workers


Assessment for Businessmen

What is PEI PNP?
Aspirants seeking permanent residency in Prince Edward Island can get a nomination from the province to federal government through the PEI Provincial Nominee Program (PNP). Individuals are selected for nomination based on their intention to live and work in PEI and their economic ability to establish in the province. Entrepreneurs and individuals qualified to work in areas with identified skill shortages in the PEI labour market are given preference.
The province has the following categories allowing it to nominate applicants for permanent residence:
Critical Workers

International Graduates

PEI Express Entry

Skilled Workers in PEI

Skilled Workers Outside Canada
Of these, the Express Entry category works with the Federal Government's Express Entry System that manages of pool of candidates for main economic immigration categories, the Federal Skilled Worker Class, Federal Skilled Trades Class and Canadian Experience Class.

What is PEI Express Entry Category:
Applicants with valid Express Entry Profiles and qualifying in one of the federal economic immigration categories, the Federal Skilled Worker Program, Federal Skilled Trades Program or Canadian Experience Class may be considered under the PEI Express Entry Category. To that end, they need to create an Expression of Interest (EOI) profile with the province's PNP as well.  The province then ranks applicants against its own selection grid and invites those it finds most suitable.
If nominated, applicants can get 600 additional Comprehensive Ranking Points in their Express Entry Profile. This will considerably increase chances of being issued an Invitation to Apply for permanent residence in Canada from the Federal Government. Once invited to apply for permanent residence in Canada by the Federal Government, applicants must submit an electronic application for permanent residency with all supporting documentation and fees through MyCIC account or if you are using our services then through the Authorized Representative Portal. IRCC is responsible for the decision on all applications for Permanent Residency.

What is PEI Labour Impact Category: The Labour Impact Category is an employer supported category for foreign nationals who have a valid job offer in PEI. There are three streams associated with this category:
Skilled Worker in PEI

Critical Worker, and

International Graduate.
For Skilled Worker in PEI Stream, applicants need to:
have a full‐time, non-seasonal (permanent or minimum of two years) job offer from a PEI employer in a high skilled occupation defined by the National Occupation Classification (NOC)(link is external) skill level 0, A, or B;

have at least two years of full‐time work experience in the past five years;

have a valid work permit to be working in Canada;

have legal status in country of residence;

have successfully completed a post‐secondary degree or diploma (minimum two year program);

be between the ages of 18 and 59;

have sufficient English and/or French language ability to perform the job offered. Language ability can be verified by one of the following:

– a language test from an IRCC approved testing institute within the past two years with a minimum score of CLB/NCLC 4; or

– PEIW-02: Workforce Job Offer Form indicating employer is comfortable with the employee's proficiency in English and/or French to perform tasks associated with the job position being offered.

have sufficient financial resources for the applicant and family to pay all immigration costs (including travel expenses) to be able to establish in PEI; and

demonstrate a genuine intention to settle in PEI.
What is PEI Business Impact Category: PEI selected 32 candidates through the Business Impact Category on September 17 draw who had a minimum EOI score of 102. The Province selects applicants  interested in immigrating to Prince Edward Island and would like to invest in and run a business, through the Work Permit Stream of the Prince Edward Island Provincial Nominee Program (PEI PNP). This stream is for foreign nationals with business ownership or extensive management experience who would like to move to PEI to start their business, and eventually become a permanent resident.
To be eligible for nomination through the Work Permit stream applicants must:
have a minimum verifiable personal net worth of $600,000 which has been accumulated through legal and legitimate sources in your own right;

have a minimum education of secondary school equivalent;

be within 21-59 years of age at the time of application;

have transferable management skills and past employment or business ownership experience;

meet minimum language requirements equivalent to a CLB/NCLC 4(link is external); and

intend to live and work in PEI while providing day-to-day active and ongoing management of applicant's PEI-based company

Attend an interview with staff from the Office of Immigration.

Meet the terms and conditions of the Performance Agreement signed with the Office of Immigration.
Applicants meeting the above-noted criteria listed above, create a profile themselves or through their authorized representative must create a profile in the Prince Edward Island Expression of Interest system. These invitations were issued under the Work Permit Stream, which is for foreign entrepreneurs who wish to own and operate a business in PEI.
Watch our video about Top 4 immigration programs for businessmen and senior managers
Want to know if you qualify to immigrate to Canada under the Federal Skilled Worker Program or a Provincial Nominee Program? Complete our free assessment form a review by our Canadian team today!

Free Assessment by our Toronto Team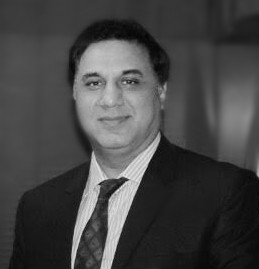 Based in Toronto, Canada, Mr. Amir Ismail is an Authorized Citizenship and Immigration Adviser recognized by the Government of Canada as an Authorized Citizenship and Immigration Representative. Read more about him here.
Amir Ismail
SENIOR IMMIGRATION ADVISER
One on one immigration consultations
Do you need help with your visa? Are you interested in a specific immigration matter? Amir Ismail & Associates (AIA) assists hundreds of people each week who are content with our in-depth analysis of their cases and to the point consultations. This assists them in identifying the issues related to their immigration matters to allow them to put their best foot forward. Since we allocate our professional time, our only inventory, in carrying out detailed case analysis, we do charge toward it. However, if a client retain us to help with their immigration matter, we allocate the consultation fee to future professional fee if we are retained within 10 business days. 

Book a consultation


About Us


About Amir Ismail


Clients Testimonials


Clients Interviews


Book a Consultation


Why hire regulated adviser


Professional Accreditation


Home Page